_
Through a combination of theoretical and practical development, you will learn how to identify and respond to emergencies that jeopardize life (Primary Care). You will learn how to identify a heart attack, manage a spinal injury, run the CPR and get other skills to save a life.
During the Secondary Care part of the course, you will learn how to handle injuries or diseases that do not immediately jeopardize life. You will learn how to bandage or immobilize a lesion, take care of a burn, what to do in case of bite or animal bite, and other basic first aid skills. Your instructor will help you gain safety in your skills through practical exercises during realistic scenarios.
An Exterior Automatic Defibrillator (DAE) can increase by 50% chances of survival to a cardiac arrest. Learn how to set and use a DAE and run the basic CPR.
EFR CARE FOR CHILDREN
During an Emergency First Response Care for Children course, you will learn what to do in case a child gets sick or gets hurt. You will learn how medical care for children differ from those for adults and you will get valuable advice on emotional aspects of treating children. In addition, you will learn how to prevent common injuries and diseases of children.
Through theoretical development and practice through realistic scenarios, you will gain the knowledge and skills needed during an emergency or a small accident.
PADI EMERGENCY OXYGEN PROVIDER
Knowing how and when administering emergency oxygen is a valuable ability to have in case of a diver emergency. The PADI® Emergency Oxygen Provider course prepares you for help and teaches you to recognize the lesions and scuba diving diseases that require emergency oxygen.
This is an excellent course for divers, boat crews, lifeguards, apneists, Mermaid or anyone who spends time in and near the water. Age restrictions or water sessions are not provided.
PADI DIVEMASTER
The PADI Divemaster course teaches you to be a leader and take responsibility for diving activities.
Through knowledge development sessions, in-water exercises, workshops and practical assessments, you will develop the skills to organize and direct a variety of dive activities.
Topics and workshops include: The role and characteristics of a PADI Divemaster - Overseeing dive activities and assisting student divers - Diver safety and risk management - Divemaster led programs and specialized skills - The business of diving and the your career - Awareness of the aquatic environment - Preparation and management of a dive - Mapping an open water site - Conducting dive briefings - Organizing a search and recovery project and a deep dive - Conducting a scuba review and a skin diver course - Assist Discover Scuba Diving and lead Discover Local Diving programs.
Thanks to the Divemaster course, you could get school credits. Ask your instructor how to do it.
Required age
18 years or older
Course prerequisites
Rescue Diver, 40 logged dives, CPR and First Aid certification within 24 months, medical clearance to dive
PADI ASSISTANT INSTRUCTOR
If you enjoy being around people, have a passion for diving and want an extraordinary lifestyle, become a PADI Instructor. Teaching scuba diving allows you to share your love of the underwater world with others by doing what you enjoy most: being above, below and near the water. PADI Open Water Scuba Instructors and PADI Assistant Instructors are the most in-demand dive professionals in the world, having completed the program that sets the standard for dive professional education. You'll earn your PADI Instructor level with hard work and hard work, but it will pay off in a profession that allows you to share incredible diving adventures with others, transform their lives, and enrich yours.
Are you ready to join the team of professionals dedicated to teaching the world's most cutting-edge and in-demand dive education programs? Then GO PRO SM with an Instructor Development Course.
The Instructor Development Course (IDC) consists of two parts - the Assistant Instructor (AI) course and the Open Water Scuba Instructor (OWSI) program. The majority of dive professionals complete the entire IDC and are accepted for an Instructor Examination (IE), the final step in earning a PADI Instructor certification.
Successful completion of the AI ​​course results in PADI Assistant Instructor qualification. When an AI is ready to continue, participating in an OWSI program allows them to be admitted to an IE and achieve PADI Instructor level.
Dive professionals who hold an instructor certification with another didactic may be eligible for direct entry into the OWSI program. This recognizes the validity of previous training and offers the opportunity to become a PADI Instructor.
Provided that they have been certified as a diver for at least six months, a PADI Divemaster can enroll in a PADI Instructor Development Course. In addition you will need:
• Have logged at least 60 dives - at least 100 to be eligible for an IE.
• Have completed an Emergency First Response Primary and Secondary Care (CPR and First Aid) course within the previous 24 months.
• Be in possession of a medical certificate with authorization signed by a doctor in the previous 12 months.
Furthermore, you will have to be an Emergency First Response Instructor, a level that you can still reach during your instructor course.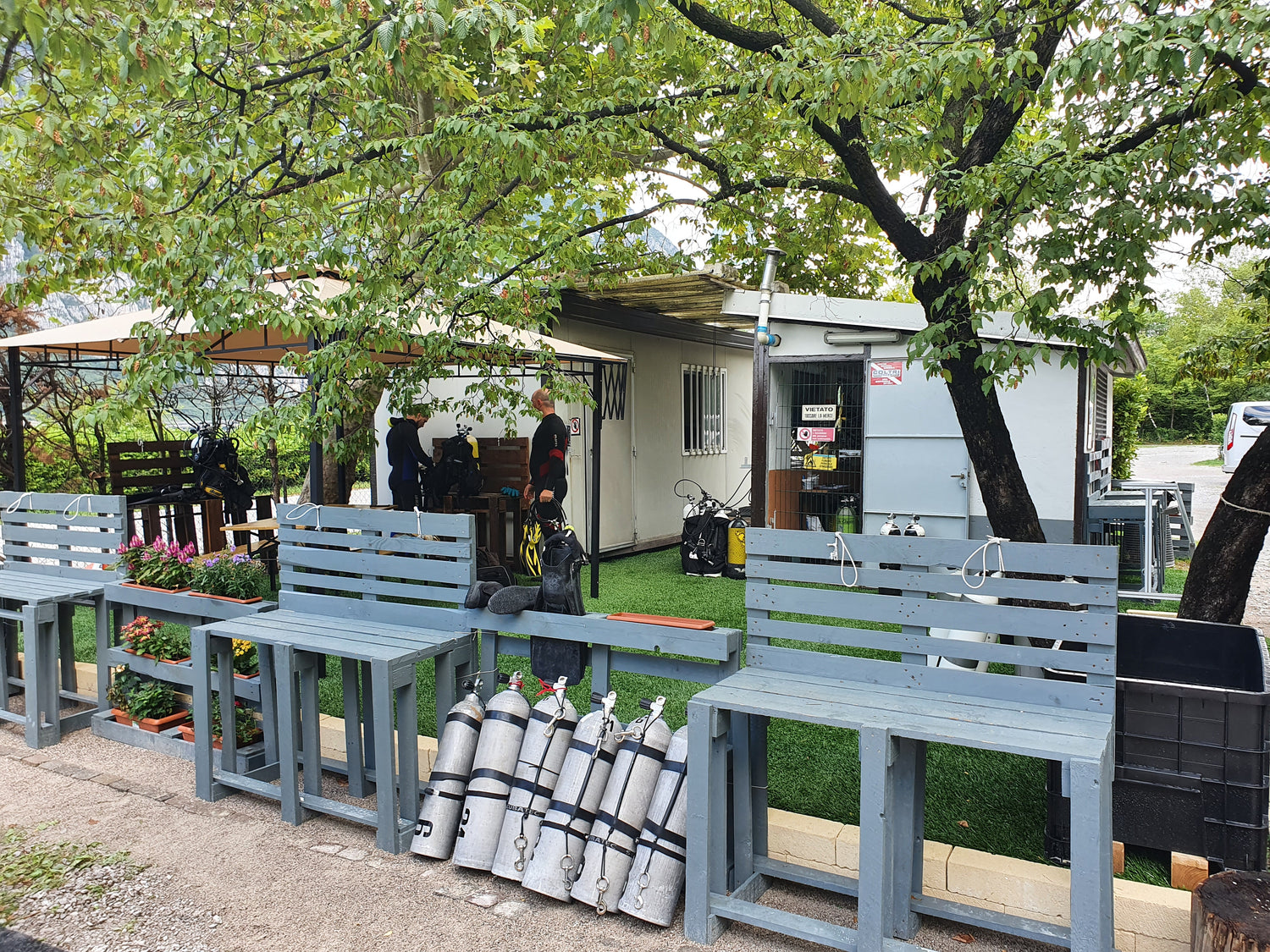 EXPERIENCED INSTRUCTOR
A Dive In' Bellagio certified program that we recommend to the new instructors who have passed the IPADI need to learn in practice how to comply with PADI standards and safety in teaching during a PADI course.
The participant will end the practitioner after having issued, under the supervision of a PADI Master Instructor, at least 2 PADI Open Water Diver licenses, 1 PADI Advanced Open Water Diver patent and 2 specialty patents PADI.
It will also experience in our charging center in the use/maintenance of a compressor, a control unit and a booster.