PADI CAVERN DIVER
Caverns are found in many areas where divers venture, from freshwater springs to volcanic island walls and limestone shores. In these locations, you'll find large, dark spaces that look incredibly enticing and yet are potentially dangerous. The PADI Cavern Diver Specialty course equips you with the knowledge and skills to explore caves safely, allowing you to venture into them a little while staying in the light zone for easy exit.
To enroll in the Cavern Diver course, you must be at least PADI Advanced Open Water Diver and be at least 1 years old.
Are you up for the challenge? You'll complete four dives, the first of which - outside a cave - will focus on line handling, reel use and emergency procedures, while the next three will allow you to apply your new skills inside.
You will learn different concepts about:
• Additional specialist cave diving equipment, such as torches and spare breathing systems.
• How to avoid disorientation and anti suspension techniques.
• Cave dive planning, including depth/distance limits and air management.
PSAI CAVERN DIVER
The PSAI Cavern Diver course is designed for those divers who wish to learn proper techniques for entering areas where direct surface access is not possible. This course is conducted in the bright area of ​​the caves which are, for this reason, precisely defined caves. The maximum depth of this route will be limited to 30mt, the maximum penetration will be limited to 60 linear meters from the surface with a minimum visibility of 9m. The entrance must be horizontal; Siphons are not allowed.
COURSE CONTENT INCLUDE:
• What is cave diving
• The cave environment
• Security principles
• stress and behavior
• Communication and configuration
• Equipment and configuration
• Rules, Guidelines and Protocols
• Fins and attitude
• Emergencies
• Protect the cave environment
⏱️ Course duration 2 days.
PSAI INTRO TO CAVE
The PSAI course Intro to Cave Diver is designed for those divers who want to make limited penetrations in the cave environment where direct access to the surface is not possible. This includes a variety of underwater caves that are located around the world both in fresh and salty environments. This course brings the diver over the bright area. During the course you will learn the basic skills of diving in the cave.
The maximum depth of this route will be limited to 40m, in safety curve without the use of decompressive cylinders, diving with bibombola and respecting the rule of the third. The Intro to Cave course is limited only to the main straw, no jumps, gaps, beams or circuits are allowed.
⏱️ Course duration 3 days.
PSAI FULL CAVE
The PSAI Full Cave Diver Course is designed for no limits divers: the maximum depth of this path will be limited to 40 m, the visibility must be at least 6 m, you will use bibola and internship respecting the rule of the third to face also multi siphon systems.
⏱️ Course duration 6 days.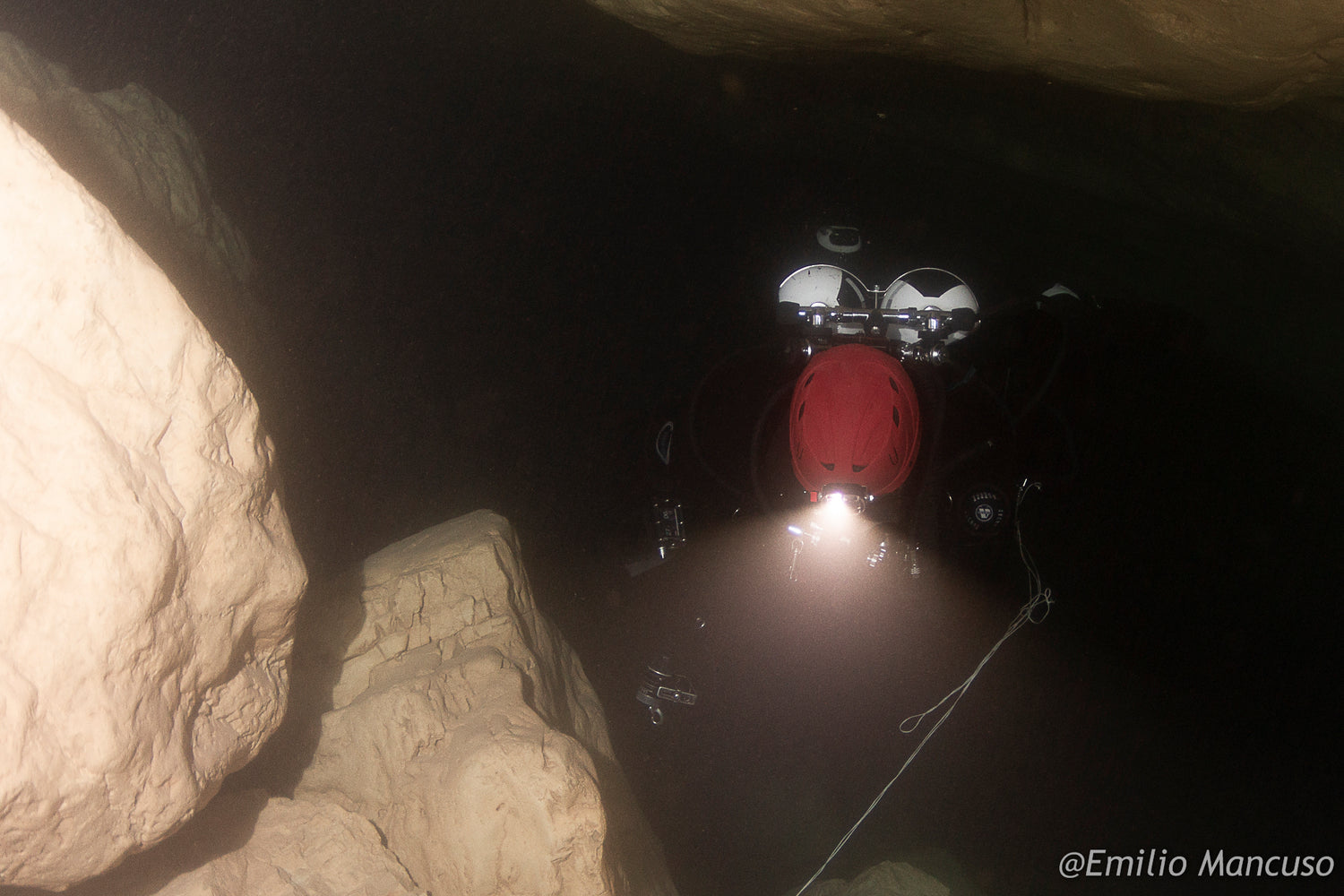 PSAI COMPREHENSIVE FULL CAVE
The PSAI Full Cave Diver Comprehensive Course integrates the three steps Cavern, Intro and Full in a single route accessible to those particularly motivated divers or with experience of aerial speleology behind them.
⏱️ Course duration 8 days.
PSAI DPV OVERHEAD ENVIRONMENT
The PSAI Overhead Diver Propulsion Vehicle course has been designed to teach divers to correctly use a propulsive vehicle in an obstructed environment. We will discuss the configuration of the harness, accessories and maintenance. The training course will be limited to penetration distances that do not exceed what the student is able to safely reach by swimming and using the "third party rule" as a gas management plan.